An Interview with Arthur Bakopolus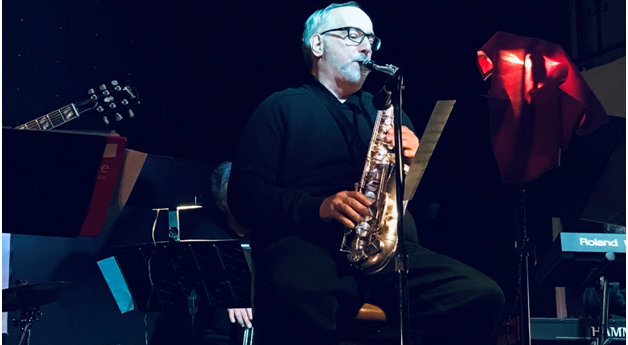 Owner of Arthur's House of Jazz; bandleader of AB5, ABQ, and AB3; educator, promoter, and conductor
It's a Thursday night in Methuen. Outside, Oak Street may seem like a quiet, residential area, but inside the doors of the Sahara Club, something magical is happening. World-renowned musical acts are lighting up the stage, filling the room with energy, innovation, and excitement. Comfortably seated in the large hall, attendees are balancing a delicious meal with the need to move to the rhythm, tapping their feet, nodding their heads, sharing facial expressions that say, "This is absolutely amazing." Attendees know they are being treated to something rare and extraordinary – it's why they keep coming back.
Each week, Arthur's House of Jazz brings the most talented and accomplished jazz musicians to the stage to surprise and delight anyone who walks through the door. One week you may hear a roaring sax solo or screaming high notes on the trumpet; the next you may hear an evocative vocal performance; and still the next week you may be treated to original works by guitars, violins, keys, basses, and drums. With such a wide variety of musical styles, and such a high standard set by the promoter, Arthur Bakopolus, Arthur's House of Jazz at the Sahara Club in Methuen, MA, is the place to be each Thursday night.
We sat down with the promoter, Arthur Bakopolus, to hear a little bit about his experience running the new jazz program that has become known as a hidden gem.
Q: Let's start with the basics: Share a little bit about your background.
A: I am a musician living in Methuen. I play sax, clarinet and flute and have played in a wide variety of venues and genres, from theater pit orchestras to full big bands of all musical styles. I've toured with many groups, such as The Coasters, The Drifters, The Marvelettes, Johnny Mathis, Fabian, Liza Minnelli, The Four Tops, Barnum and Bailey's Circus, The Artie Shaw Orchestra, The Tommy Dorsey Band, The Guy Lombardo Band, The Benny Goodman Tribute Band, The Las Vegas-based Rat Pack Band and many Boston area groups. I have a quintet - AB5, a quartet - ABQ, and a trio - the Artie Bakopolus Trio. When I'm not playing, I keep a full private lesson teaching schedule, I hold jazz improv workshops around the area, and I'm the musical director for the Chelmsford Community Jazz Band. But long before Arthur's House of Jazz, my quintet, AB5, played at the Sahara Club, which had a reputation for bringing lots of Boston's top jazz musicians to the stage. My positive experience there as a musician, and other times I've gone as an attendee, contributed to my interest in being its new booking agent.
Q: How did you become the promoter of the jazz program at the Sahara Club?
A: When the pandemic hit it coincided with the long-time booker of the room to finally step down after 22 years. Jocko Arcidiacono had done a great job keeping an outlet for jazz fans in this area alive. One day by chance I was driving by the Sahara Club, and as I slowed to see if there was a sign about upcoming jazz events, one of the owners, Salim Lebos, who runs it with his sister Rose, Eli and the rest of the Lebos family, came to see who I was. He was very friendly and we had a great conversation. He said he remembered me playing there and told me about Jocko. He said he wanted to start up the series and asked if I would be able to get the musicians booked and ready to play. I agreed and on August 5th the series started up again. With the assistance of Greg Hopkins, the initial line-up was set: Greg Hopkins Quintet, Tim Ray Trio, Donna Byrne, Jon and Sheryl, Debbie Larkin and Jeff Stout, Greg Abate, Jeff Galindo and we were off. We have some of these great performers coming back again, in addition to George Garzone, Danny Harrington, Russ Hoffman, my quintet AB5, and more. I like to vary the styles of jazz and the types of bands we bring in so that the community can experience live jazz in many different ways.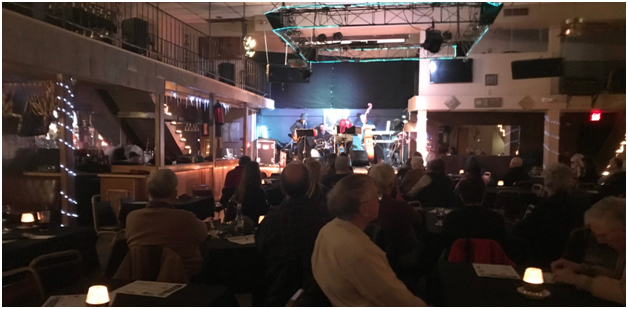 Q: We've heard a lot about Arthur's House of Jazz feeling like a family. Can you talk a little bit about that?
A: What I've come to realize is that a family not only owns and runs the Sahara but all the patrons are like family; Jeff "the lawyer," Shibly and Lorenzo "the dentists," Isabelle, Dave, my wife Maria manages the front desk and greets all who enter, my daughter Laura helps me with many things including social media and those great flyers you may have seen, there's a great wait staff (many of which are family), there's Neil, and Jim and Linda, the Lebednik brothers, Mike and Manuela and many more!
Q: It sounds like you've gotten off to a fantastic start! What are you excited for next?
A: To keep this going strong and support these great musicians more fully and even attract national acts, I am looking to fill the room. That means getting people I haven't met yet to come in the door. I know once you do, you'll come back. We have a wonderful, loyal base of attendees that come every Thursday, and we're looking to expand that by bringing jazz to more and more people each week.
Updates are posted to facebook.com/Arthurshouseofjazz as well as our new website www.arthurshouseofjazz.com. You can also contact me at
[email protected]
and request to be put on our weekly email. Please check us out every Thursday from 7:30-10:30 PM located at 88 Oak St. in Methuen. You'll be glad you did.